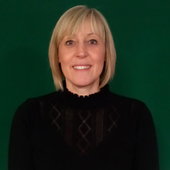 Mrs G. McGreehin
Whittle College Leader
A warm welcome to Whittle College.
The College is named after Sir Frank Whittle who was an English engineer officer in the Royal Air Force. He is credited with single-handedly inventing the turbojet engine. Our college motto is 'Flying High' and we encourage all our students to show the same determination, drive and ambition to achieve their own success.
In Whittle College we pride ourselves on creating the feeling of belonging and being part of a large family. We have a dedicated team of form tutors who will remain with you throughout your time in Whittle, offering daily support and guidance.
Whittle College Leader is Mrs McGreehin, who is available throughout the day for further advice and support.
You are encouraged to embrace College life and participate fully in all our activities and pursuits. There are lots of different things available including sports, quizzes, Maths and English challenges, Art competitions, fundraising events, talent shows and much more. Whittle College students have also taken part in our very own Great Whittle Bake off, the Whittlewealth Games and enjoyed special themed breakfasts. The recent talent show was won by Whittle College with an amazing musical performance from two of our students.
All members of our college are very proud of what we have achieved and to be part of a wonderful college.