12 April 2017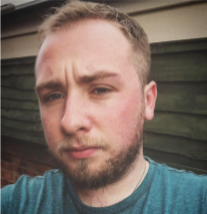 After leaving the high school, I attended a further 2 years education at the 6th form college at Lytham, studying BTEC ICT, and BTEC Performing Arts, graduating with Distinction grades!
My first 'post-education' employment (as I took a gap year opposed to going straight to university) was at Blackpool Pleasure Beach as the on-park photographer.
Shortly after, I auditioned for an acting job with Merlin Entertainments ltd, for the then upcoming Blackpool Tower Dungeons attraction, I was lucky enough to become employed as an actor aged 18!
However, the nature of this job wasn't for me, so prior to resigning I applied for a job at the Blackpool branch of CurrysPCWorld, working initially in Camera sales and the photography department, moving onto customer services.
On numerous occasions, I ran the department as manager allowing me to later fly to the Isle of Man to open their new store over there, which was a great experience and an amazing opportunity, albeit the rather interesting flight from the now defunct Blackpool Airport…
Upon my return from the Isle of Man, I later ran the computer technical and setup department of the store, giving 30-minute tutorials on technology for those who needed either general, or specific software assistance; Windows 7-to-8 upgrades, Adobe Lightroom, Adobe Photoshop, Sage business software, Antivirus installs, etc.
Alongside my 3 year employment at CurrysPCWorld, I worked again, at Blackpool Pleasure Beach, in the theatrical magic, illusion, and variety show Beyond Belief, for the final 2 years of production. There, I undertook the roles of stagehand (preparing the illusions, operating illusions, organising costumes), theatrical technician (directing lighting and technical queues), sound designer (compiling the musical score for the show, arranging the score, finalising and working to lighting queues), choreographer (various dance routines, performance with illusions and my own act), and performer (various dance routines, ensemble routines, illusions, solo juggling act, juggling act with dance troupe)
Also over the past 3 years on and off, I have worked as a PA for internationally renowned director and choreographer Antony Johns, arranging meetings, assisting with organising the setup of the office and business, and continuing with my love for photography, having photographed the RAF Red Arrows Display team, and being the press photography alongside Antony Johns for the visitBlackpool/ILoveBPL International Fireworks competition.
With my interesting in engineering continuing to my current line of employment (explained below) my passion for motoring has thrived, being in the process of restoring/rebuilding a Subaru Impreza UK2000 turbo, with the plan to get it 'rally-ready' within 5 years, the most recent of work being a full chassis rebuild, painstaking at the very least… next step is new brake lines, new calipers, disks, pads, full underseal, roll-cage install, strip the interior, new suspension, sequential gear box, drivetrain, bushes…the list goes on…oh, and a custom rally livery!
After 3 years at CurrysPCWorld and Beyond Belief, I decided to broaden my horizons and apply for an apprenticeship with BAE Systems to start in the 2014 intake, I'm now 2 years into that apprenticeship studying Aeronautical Engineering specialising as an Aircraft Fitter on the BAE Hawk T2, Eurofighter Typhoon, and Lockheed Martin F35 Lightning II, this wouldn't have been possible without my 2 year BTEC Engineering course I did in Year's 10 and 11 of Lytham High School, so a huge thanks to the engineering department for that!
Alongside the apprenticeship I've completed a 2-year Level 3 National diploma in Aeronautical Engineering Principles, including; A-Level Mathematics, Physics, Engineering Design, Engineering Principles, Materials, Electronic theory, Avionic Mechanical theory, Engineering Project, Aircraft Fitting, Avionic and household electrical systems, C.A.D. (Computer Aided Design), Machining, amongst other Aeronautical and Avionic based studies, to which I graduate from the National Diploma this month (July 2016)!
I'm scheduled to graduate from my apprenticeship as of November 2017, and then out into the world of BAE Systems I go!
And that brings me to today, where I finish the story of what I've achieved after leaving Lytham High
Posted by stephshencoe
Category: Alumni