22 February 2016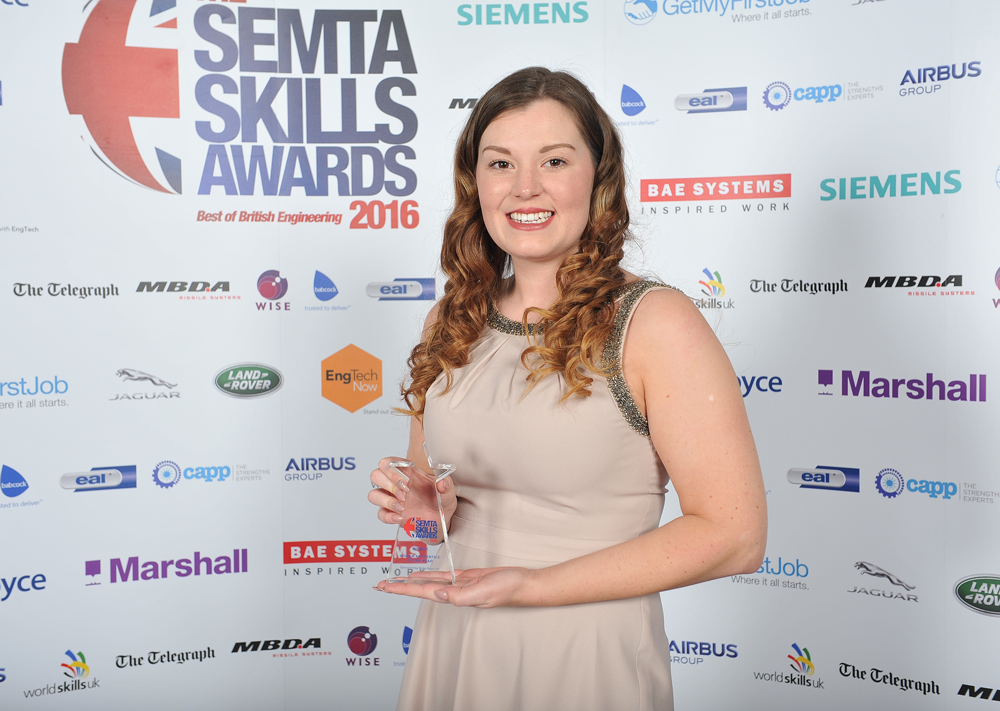 Talented apprentice engineer Joanne Sharples, has seen her career take off and land her a prestigious engineering award thanks to her High School teacher.
The 24-year-old, from St Annes, Fylde beat off strong competition to be named the UK's Higher Apprentice of the Year, sponsored by Rolls-Royce, last night at the Semta Skills Awards gala dinner in London's Hilton Hotel on Park Lane hosted by BBC journalist, presenter and engineering advocate Steph McGovern.
Joanne achieved her EAL Level 4 Diploma in Project Management, completed the year with a distinction in her foundation degree and now the honour of being named the UK's Higher Apprentice of the Year by Semta.
"I am very shocked and surprised to win," she said. "My teacher Lisa Fitzpatrick at Lytham High School was the person who drove me towards it – she introduced me to BAE Systems. I liked what I heard and I joined the apprenticeship scheme."
Joanne works in a project management role for BAE's Military Air and Information business in Warton but is currently based at RAF Coningsby. She is in the fourth year of her apprenticeship working towards a Bachelor's degree.
Joanne's training has so far involved work on complex engineering projects such as the F-35 Lightning II and the Eurofighter Typhoon.
After Joanne proposed to invite schoolgirls on site to inspire and inform them about engineering, she was asked to project manage the event where she demonstrated excellent stakeholder management, holding challenging discussions with many senior stakeholders. The evening was a fantastic success and offered a great experience for the girls.
More female apprentices started work in the business this year, 18% compared to the national average of 5%, and was a direct result of Joanne's actions during the past 18 months.
Ann Watson, CEO of Semta, the not-for-profit organisation tasked with skilling engineering and manufacturing in the UK said: "Joanne is a very deserving winner of the Semta Skills Award and an inspirational role model for others.
"Her drive and determination is commendable and she is playing a significant role, not only as a Project Manager but as an advocate for female engineers within BAE Systems and beyond.
"She is exactly the sort of person we need to bang the drum for female engineers. If we are to achieve the 800,000 extra engineers we need by 2020 it is vital we have more young women like Joanne in STEM careers to keep the skills talent pipeline flowing for UK plc."
Hundreds of nominations from across the UK for the nine categories were shortlisted to leave 27 finalists battling it out in the prestigious Semta Skills Awards.
The awards were judged by an expert industry led judging panel.